Shopify theme with lots of layouts, features and options so we call it front-end framework for Shopify. Build with love. Try it now.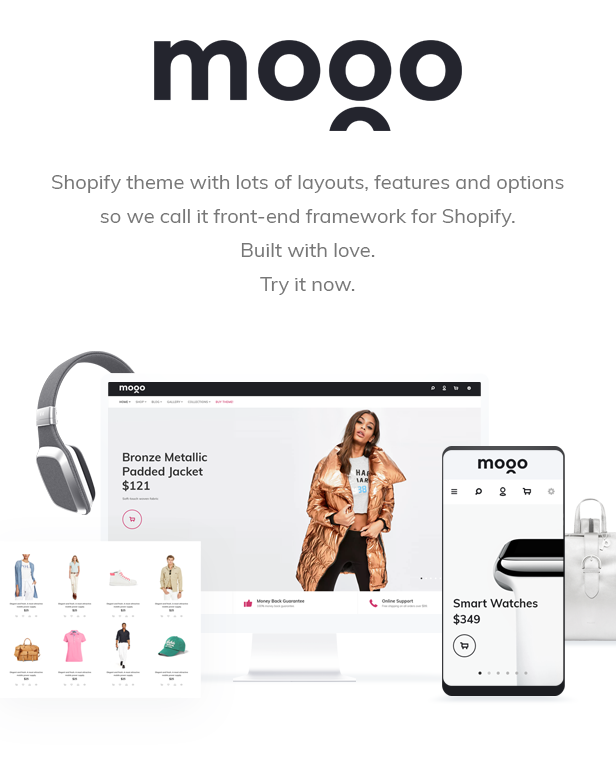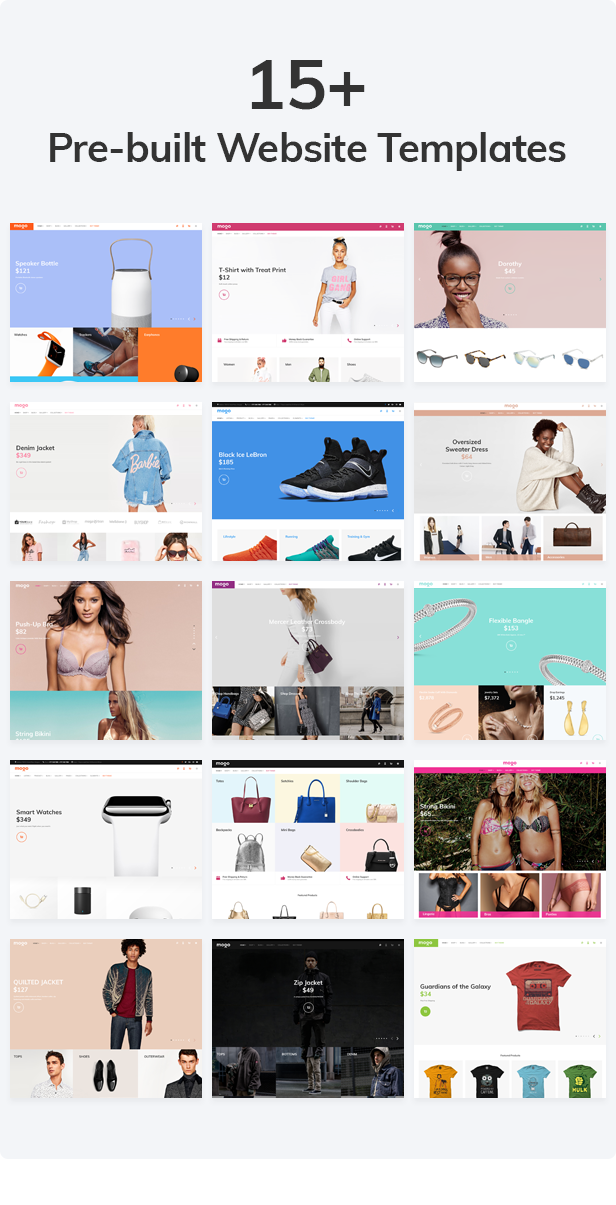 Theme features:
MegaMenu.
Do you agree that this is one of the most important parts of any eCommerce theme. You don't need to buy any separate apps and spend extra budget. Our theme is integrated with powerful module of mega menu. A lot of settings and unique features will save your time.
Banners Section.
What is the aim of each banner? They should attract customer to visit collection or product page. We offer different modern banners sections. I'm sure you will be able to chose something that will suit your needs and requirements.
AJAX Filter.
There is no need to force customer to reload page to view filtering results. Everything is done on the same page without reloading. Your customers will not leave collection page and will be able to filter desired products in the easiest way.
AJAX Load More Button.
Boring page switchers is not about our theme. You can have unlimited "load more" feature. Usually we earned on customizations by adding this feature to the client's websites. Now we decided to make it as part of the theme.
AJAX Search.
This is also must have feature for any good store. This feature is inbox. Sensitive ajax search allows to find product if you have minimum information about it. You don't need to wait and reload search page. Ajax search is intended to make search simple and easy.
Unlimited Filters.
Default filters are the strong part of basic Shopify software. We have separate module for this purpose. Working with filters will be very easy. Don't limit your opportunities to organize your products in the best way.
Product Labels.
Nowadays sellers should show as much information as they can. "NEW", "ON SALE", "HOT" badges will make your product section more informative. We also added % badge. You can control all of them through the admin.
Product Countdown.
Our 12 eCommerce experience allows to use little marketing tricks. They will help to convert your traffic in real sales. Product countdown feature is one of these feature. You can set time via admin.
Advanced Swatches.
Advanced color, size, material swatches is also part of our custom app inside the admin. Improved UI, nonstandard approach will satisfy your business needs and requirements.
6 Types Customizable Product Category Page.
Every one should have choice. We gathered most popular collection pages. Our predefined listing pages are different, flexible, informative and nice.
2 Types Customizable Product Info Page.
You can choose 1 of 2 different product page layouts. One is classic, second is modern with big images and nonstandard view. Impress your customers, experiment with the product page look, show your product to the world in the best way.
Wish list.
Basic default Shopify doesn't have such feature. Some our competitors sell this app as separate module. In our case this feature is the part of the theme. You don't need to pay extra for its usage. Enjoy wish list functionality.
Compare.
I can't imagine well done online store without this feature. Users like to compare products and we are providing this functionality. Lets give customers the opportunity to chose what product to buy. There is no matter what will they buy. Am i right?
Quick View.
Each client should have the opportunity to view product details without entering and being redirected to the product page. Customer can save his time by viewing product details using quick view option.
Custom Tabs.
Sometimes products may contain custom information and description. For this purpose we added extra functionality to have custom unique tabs for each product. You can have also general tabs for all online store and combine them with custom tabs.
SEO optimized. Product Rich Snippet. Tested by moz.com app.
Rich Snippets is the term used to describe structured data markup that site operators can add to their existing HTML, which in turn allow search engines to better understand what information is contained on each web page.
Unlimited Colors.
Don't limit your imagination with predefined color scheme. You can choose any color with color picker. Elements will be updated automatically. Our admin allows to adjust almost all elements according to your specific custom requirements.
True Sections. 19+ Sections. Hundreds of Options. Unlimited Combinations.
Sections is one of the progressive features in the latest Shopify updates. This is some kind of builder where you can organize structure parts of the website according to your desire. You can add, delete, sort blocks.
Header. 12 Pre build Layouts. Sticky Header.
We understand how it is important for each customer to provide flexibility in options. That is why we combined (according to our experience) best UI/UX solutions in one package. I think there are mo more other variants.
Footer. 6 Pre build Layouts.
Big, small, informative, clean, dark, bright, with logo, without logo, with newsletter, without newsletter, tall, thin, with social networks, without them, with meta navigation and without it. Do you know other variants?
RTL.
Of course this is must have option. Review our demo with RTL feature. You can adjust your web store by one click option through the admin. This is so easy.
Localizations.
We organized our demo in six languages – English, Spanish, German, French, Arabic and Portuguese. Of course translations aren't prefect but our aim was to show that our theme can be localized to any language.
Sticky Sidebar.
You will not find such feature among our competitor. Strong JS knowledge provides best UI/UX for our customers. Sticky sidebar allows to scroll listing/collection page and have filters on the left side always in visible zone.
Left Sidebar, Right Sidebar, Disable Sidebar.
This feature was available in Magento CMS. Basic Shopify software hasn't inbuilt options. Our theme is integrated with this functionality and you can choose whether to have left, right columns or to have layout without them.
Revolution Slider or Vertical Slider.
Revolution slider is slow, heavy and not always easy in use. But unfortunately this is the best image slider and of course our theme has it. Feel the power of drag and drop, visual effects and flexible settings.
Many Custom Pages.
About us, 404, contacts, blog, gallery, services, FAQ, site map, coming soon and much more. You will find everything that you need for functional eCommerce web store.
Optimized for Mobile Devices.
We have started our development from mobile layouts because we know that the most part of the traffic is from mobile devices. There were spent a lot of hours of our QA/Tester to recheck everything on different kind of mobile devices including both – iOS and Android.
Bootstrap 4.0
At first we had some doubts whether to use bootstrap 3 or 4. But we decided that latest actual bootstrap version will be better for our project and for using by our customers.
Shopify Builder.
Of course this is not Visual Composer for WordPress, but we have tried to create our theme using best practices and allow customer to combine different blocks and structures. Create your own layout!
Build with Slate – Tool for Developing Themes.
Slate tool latest and best tool for theme development. It is designed to assist your development workflow and speed up the process of developing, testing, and deploying themes to Shopify themes.
Modular Design Inspired by BEM Methodology.
BEM — Block Element Modifier is a methodology, that helps you to achieve reusable components and code sharing in the front-end.
Flexbox.
Bootsrap With Flexbox Grid. Quickly manage the layout, alignment, and sizing of grid columns, navigation, components, and more with a full suite of responsive flexbox utilities.
Fast Performance.
Optimization and fast load of your website is very important for high conversions. Our theme is the best among the competitors if you analyze it via gtmetrix or google page speed.
SASS.
Sass technology is the most mature, stable, and powerful professional grade CSS extension language in the world. Our theme is created based on SASS.
Live store examples:
Change log
version 1.0.3 (Feb 15)

- Add custom height option to Revolution slider
- Add custom field on product page
- Add option to hide account icon at header
- Add subcategory images for MegaMenu
- Add option - two products per row on mobile on collection page
- Add social sharing plugin (Addthis) to blog article page
- Add option to remove "Powerd by Shopify" link
- Improve swatches (remove X sign)
- Improve contacts page options
- Improve blog article options
- Fix MegaMenu captions
- Fix issues on RTL 
- Fix wishlist issue

version 1.0.2 ( Feb 8 )

- modify sticky header at desktop
- add option "Sticky effect" 
- add sticky header at mobile
- add option "Show quantity field" on product page
- fix issues on RTL mode

version 1.0.1 (Feb 5)

- add drop down for product options (product page)
- add options for Newsletter popup block
- add second variant for product collection
- add PSD source files
- improve product description formatting (product page)
- remove thumbs image for products with one image

versin 1.0.0.3 (Jan 27)

    - fix product description text

versin 1.0.0 (Jan 24)

    - initial release

---
Theme Author: themetony
Creation Date: 2017-12-20T21:56:51+11:00
Last Update: 2018-02-15T00:52:04+11:00